Developed through our passion of the spirit of our wood and the grandeur of the Pacific Ocean, our "Ocean Dreams" Furniture line is becoming a favorite with our clientele. Each piece is unique and has its own artistic flair, incorporating sand and seashells from the beaches of Vancouver Island with our beautiful West Coast Canadian Live Edge Wood.
We guarantee no two pieces are alike!
Each piece is finished by hand... in Canada... by local people. It takes many hours to take the rough-milled wood through the journey to a fine, smooth, can't-keep-your-hands-off-it finish.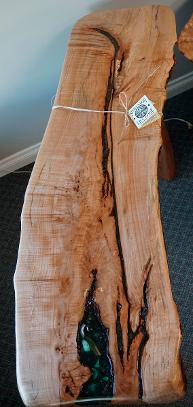 The Ocean Dreams Console Table is a perfect addition to your living space. Behind your sofa or placed in "just the right spot", it's unique design and heirloom quality will bring that west coast feel to your home.
Dimensions: 61"L x 19"D x 31.5"H
Price: $3,450.00
Sold To a family in Turner Valley!
Click/Tap to enlarge images