***NEWS FLASH!***
NEW LOCATION OPEN IN EDMONTON!
We've set up a pop-up location in Edmonton, Alberta!
Contact David to view/purchase from a selection of quality thick slab, live edge wood as well as Dining Tables, Desks and Sofa/Console Tables.
CALL OR TEXT 780-993-5824
We provide unique, one-of-a-kind, thick slab and live edge products for home, office andcommercial clientele. Excellent quality, great craftsmanship and attention to detail make our product stand out from the rest. We support our local economy by using wood sourced from local, independent mills and by employing local people in our production shop and retail store.
100% Produced and manufactured in Qualicum Beach, British Columbia, Canada.
Western Red Cedar arbor vitae or scientifically, Thuja plicata has been a staple for First Nations People of Canada's west coast for thousands of years. This tree provided them with material to build shelter, clothing, tools and transportation.
We honor the Spirit of the Tree of Life in all our products.
We procure only the driest wood for creating our furniture and decor. Most of our wood has been dried for 3-5 years...naturally. Quality products take time to build and we want to make sure your piece lasts a lifetime!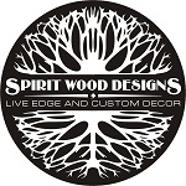 Spirit Wood Designs 4, 172 W 2nd Ave Qualicum Beach, BC V9K1S8 Ph:250-713-2630